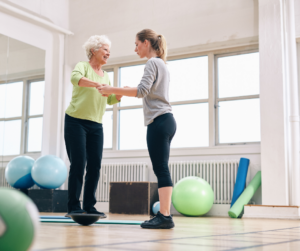 About eight million Americans have balance problems and one in three Americans over age 65 will fall every year. Injuries from falls, like a fractured hip, can change a senior's life in ways senior fear most—isolation and loss of independence. For seniors and caregivers, understanding balance disorders and fall prevention along with knowing when to get help can go a long way toward avoiding falls and the devastating consequences that may come with it.
"A balance disorder is a disturbance that causes you to feel unsteady, lightheaded or as if you or the room is spinning. Balance disorders can be due to a disturbance in the inner ear, but they can also be caused by visual problems, skeletal problems or nerve problems," says Lawrence Meiteles, MD, medical director of The Balance Center at Northern Westchester Hospital in Mount Kisco, New York.
Read the entire article HERE for more detailed information.
This information provided courtesy of Parent Giving.