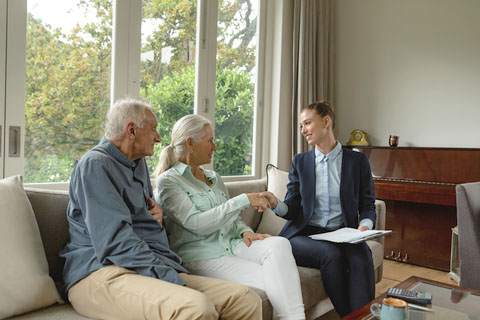 Q: Why do I need an Advisor to assist me?
It's very important for families to have accurate information when facing difficult decisions pertaining to care and housing options for their loved-ones. We help families navigate the many aspects of senior living that can sometimes be a time consuming and overwhelming task for families.
Q: How will my Advisor help us?
In addition to providing your family with valuable guidance and resources, our Advisors will schedule tours and visit senior communities with you if desired. Because of our experience and first-hand knowledge of the various communities and their services, we will know questions to ask during tours on your behalf that will save you money and help find you the right fit.
Q: How are we different than other Senior Advisors?
Our Advisors are local and live in the communities where we serve. We're not part of a large franchise or national company. We live and work here and make every effort to stay up-to-date on each senior living community's quality of care, staff turnover and management team.
Q: My parent is being discharged from the hospital tomorrow and can't return home. Can you help me?
Yes! Call us! Our personal relationships with local administrators of senior living homes help us get fast approvals for move-ins.
Q: Do you have experience with Veterans Aid and Attendance benefits?
Yes! We work directly with resources that help Veterans and their families secure funding under this program to help cover assisted living and memory care costs.
Q: How can you provide your service at no cost?
We get paid directly from the senior living and home care companies through contracts with them, therefore the families that we serve pay nothing for our guidance and resources.
Q: Do you make referrals to communities and providers that you do not have contracts with?
Yes, our Advisors are dedicated to serving our clients in the same manner in which they would serve their own family members. While it's not feasible for us to be familiar with every aspect of every senior living option in the area, our Advisors will perform reasonable due diligence along with the families when providing information and/or referrals on or to locations that we don't regularly visit. Our primary goal will always be to match the Senior with the community that can meet their physical, mental, social, religious and financial needs.
Q: How are the communities that you recommend licensed and monitored?
The communities that we work with are licensed under the North Carolina Department of Health and Human Services and are subject to routine visits from state surveyors to ensure each community is following state safety regulations. We also routinely monitor reportable incidents.
Q: Who receives my personal information after I submit it on your website or contact you by phone?
All About Seniors, Inc. is committed to keeping your information private and only accessible by our Advisors. Your information will not be shared with anyone without your prior approval.
Q: Is it too early to contact All About Seniors, Inc. about helping us?
It's never too early to start your research for such important decisions that are pending. Whether you're just beginning to research options or you're in an immediate crisis and time is of the essence, we're here to help you.
Q: Can you assist me in areas of the state and country where you don't currently have offices?
Yes, we operate within a national network of senior placement companies and realtors. Therefore, please let us know where you or your parents are living or are thinking of moving and we can get you the help you need!
Q: I need help! What's the first step?
Contact us at (919) 830-6478 so we can discuss your immediate concerns and decide the best way to help you currently as well as long-term.
General disclosure: The no-cost services mentioned abundantly on our website are specifically for our senior living guidance and placement services. Assistance with any real estate need or the use of any services provided by an outside vendor resources may come with costs that will be discussed in detail with our clients.