Davis and Carla Capps, Owners / Senior Living Specialists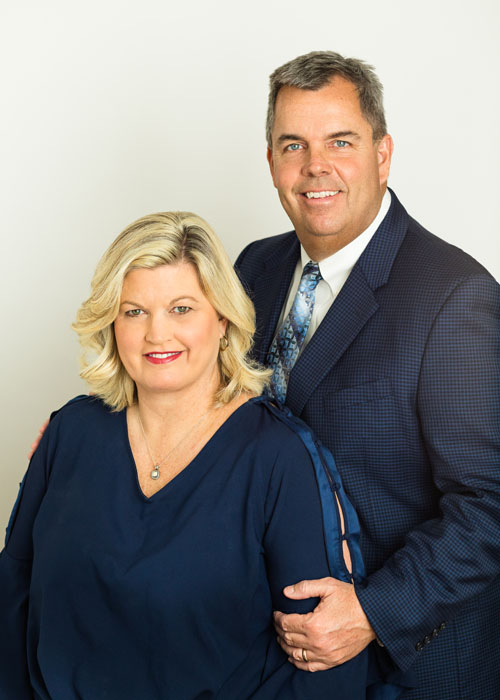 "It's a huge honor and responsibility to be entrusted with our client's most personal needs and concerns. Working with families to provide their loved-ones with the best care and housing options available is the most rewarding experience of our lives."
After growing up in Hamilton, Virginia and earning her Business Administration degree from Virginia Intermont College, Carla moved up the corporate ladder during her ten-year retail career with The Limited, Inc. In 1997, Carla married the love of her life and has lived with her husband Davis and three kids in Youngsville, NC ever since. Since completing college, Carla has felt the drive to open a small business that would have a profound, positive effect on the local community and its' citizens. All About Seniors, Inc. is having that positive impact on seniors by connecting them with much-needed resources and Carla's leadership has been a large part of making it possible.
Born and raised in northeastern North Carolina, Davis has strong family ties to the triangle area. Since graduating from Warren County High School and then North Carolina State University with a Business Management degree, Davis has continued to live in the area with his wife Carla and three children Branson, Kennedy and Emily. When he's not coaching softball or watching his kids play sports, he enjoys going back home to visit his parents who are doing well in their early 80's. Davis' working career includes his ownership of realty Stonewood Properties, Inc. for the past twenty years as well as the last five years with Brookdale Senior Living as their Director of Business Development. Contact Davis or Carla so they can help secure the best senior living community
for your unique situation and to take advantage of the numerous resources that they have available.
Davis Capps (919) 830-6478 Davis@AllAboutSeniorsNC.com

---
Tammy Ertl / Senior Living Specialist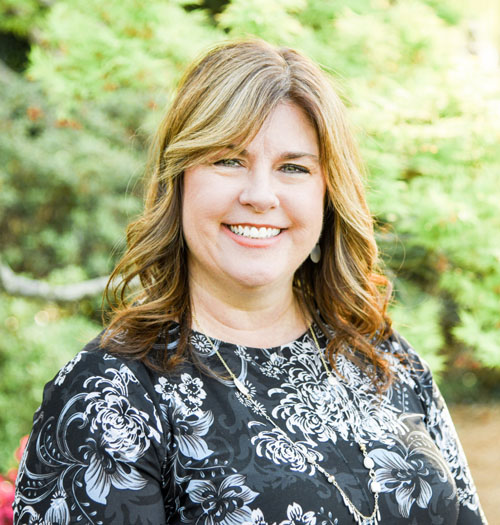 A fixture in the senior industry, Tammy Ertl has recently joined the experienced staff of All About Seniors, Inc. as a "Senior Living Specialist"! Serving the aging population of the Pittsboro, Chapel Hill, Durham, Cary and Pinehurst areas, Tammy is focused on guiding families to the best housing and care solutions for their current and future situations. Providing extensive resources to families at no cost fills an important role at a time when seniors are having to make the most difficult decisions of their lives regarding a transition into senior living or obtaining in-home care. The experience that Tammy and her cohorts at AAS have gained through their years of working directly in senior living is vitally important when it comes to touring senior communities with families and knowing the important questions to ask of community leaders so that the aging senior gets the care that they desperately need and deserve. Here is some background information on Tammy:
Tammy Ertl / Born and raised in Conneaut, Ohio – a small town an hour northeast of Cleveland. After high school, Tammy attended Mercyhurst College in Erie, PA where she earned her degree in Hotel/Restaurant Management. After moving to Rochester, NY, she got her bachelor's degree from SUNY Brockport in Business/Marketing. Tammy is now a single mom to three beautiful and successful daughters ages of 17, 24, and 27. They ended up calling North Carolina home in 2005 and love everything that this beautiful state has to offer.
Tammy has twenty-three years of sales and marketing experience with most of it being in the healthcare industry and real estate. Her passion of helping patients and families has been one of the most rewarding things in her career and it feels like a natural progression to blend her roles in senior healthcare and real estate because she can help families realize their dreams especially seniors and single moms like herself.
When Tammy isn't working, she enjoys volunteering with the US Veterans Corps, participating as an active member of the Rotary Club of Pittsboro, traveling to the NC mountains, supporting local business ventures and spending time with her beautiful family. Also as a licensed realtor, Tammy is currently pursuing her SRES (Senior Real Estate Specialist) designation so that she'll soon be able to help seniors save money on the listing of their personal homes as they transition into senior living. Please give Tammy a call as she is always ready to help!
Tammy Ertl (919) 444-5319 tammy@AllAboutSeniorsNC.com

---
Caryn Utberg / Senior Living Specialist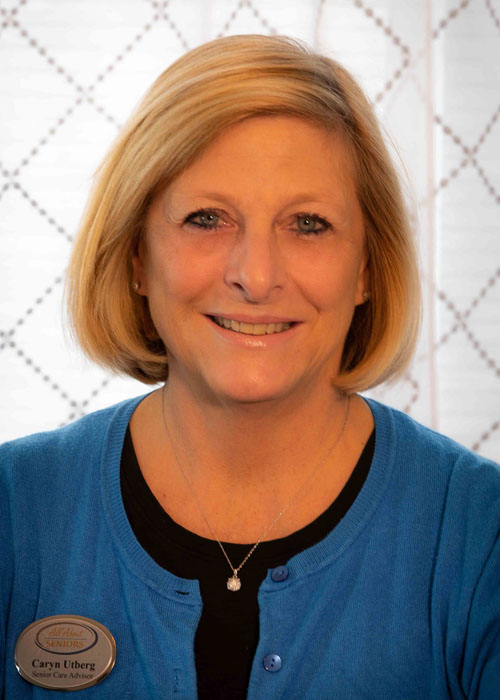 Growing up in Durham and having worked for the last twenty years with aging adults and their families throughout the triangle area, Caryn is truly engrained in the fabric of the Bull City and has vast knowledge of senior living communities in Durham, Chapel Hill and Raleigh. She brings extensive experience on the "care" side of long-term care by providing enrichment activities in adult day centers and assisted living communities, as well as providing direct care and care coordination while owning care management company Senior Care Management Associates. Caryn's commitment to personal development has allowed her to earn three professional designations including the Certified Senior Advisor (CSA), Certified in Long-Term Care (CLTC) and the Long-Term Care Claims Professional (LTCCP) designations. She also has completed the state certification as a home care agency director and is "Eden At Home" certified which is training directed towards improving the lives of elders living at home as well as their care partners. Additionally, through her licensure as a long-term care insurance agent and partnership with Comfort, LTC, Caryn can also assist families with insurance solutions for long-term care planning if needed.
Caryn is an active member of the "Society of Certified Senior Advisors", the "Chapel Hill and Durham Eldercare Resources" group, as well as an executive board of director's member for "Wake County Resources For Seniors". When not providing families in the area with a helping hand, Caryn enjoys spending time with her extended family and more specifically her grandchildren, gathering with friends over a good glass of wine and also completing home improvement projects.

Contact Caryn today so she can share her wealth of knowledge and senior care experience with you and your family to help improve the life of someone you love.
Caryn Utberg (919) 794-1888 Caryn@AllAboutSeniorsNC.com

---
Colleen Jones / Senior Living Specialist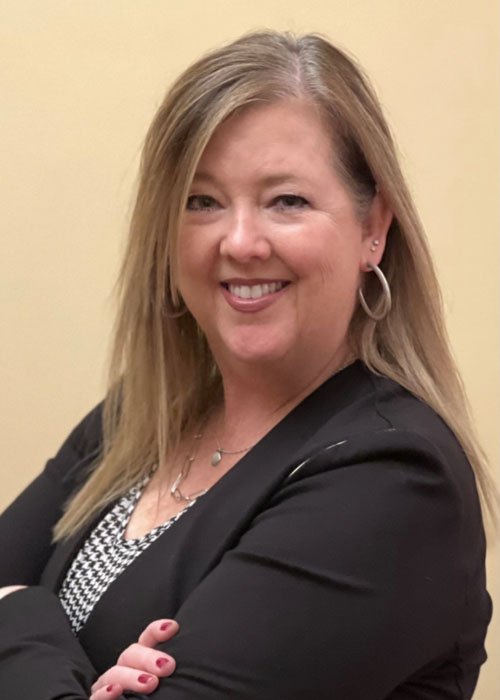 Moving from Montreal, Canada to Raleigh, NC during her high school years, Colleen currently resides in Wake Forest with her husband Calvin and their three children. After graduating from East Carolina University, she immediately began her career working with seniors at a skilled nursing and rehabilitation facility. Gaining additional experience, Colleen excelled at her sales and marketing efforts in several startup communities and in turn became familiar with all facets of the senior market throughout the triangle area. During this time she gained 16 years of experience as Sales and Marketing Director and for the past 3 years she served as Executive Director of an Independent Living community.
Colleen brings a wealth of experience and knowledge of the senior industry in Wake County and admits her passion has always been to serve seniors and their families.
When Colleen is not working, she enjoys crafting, cooking with her family, gardening, beach and mountain trips, as well as spending time with her dogs and cats.
Contact Colleen as she would love the opportunity to share her extensive knowledge and realm of senior resources and care options with you. She will compassionately listen to the needs and desires of both the senior and their family while guiding them towards the best fit for them. Her hands-on, heartfelt approach will enhance the overall experience and well-being of those that are faced with these difficult decisions involving their loved ones.
Colleen Jones (919) 771-5995 Colleen@AllAboutSeniorsNC.com