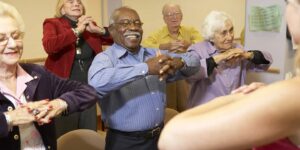 Are you attempting to weigh assisted living versus nursing home care as an option for yourself or a family member? Many Americans just like you are doing exactly that. They're looking for clear answers about senior living possibilities and the differences between them. Thankfully, you're in the right spot to find some of those answers.
With help from this article, you can start making informed decisions that result in a comfortable, connected, and care-focused quality of life for you or your loved one. After all, a lot of today's nursing homes and assisted living facilities are warm, homelike communities where older adults enjoy kindness and respect, make new friends, entertain visitors, and pursue satisfying leisure activities.
As you'll soon discover, there isn't just one main difference between assisted living and nursing home care. Rather, each type of senior care community has several special and defining characteristics. In this article, you'll learn more about those differences as they relate to the following aspects:
Terminology
Common types of residents
Typical living spaces
Care services
Other kinds of services
Primary caregivers
Cost and payment methods
Read the entire article HERE for more detailed information.
This information provided courtesy of Great Senior Living.