"All About Seniors Can Help You Find The Best Fit In An Independent Living Community For You and Your Loved Ones"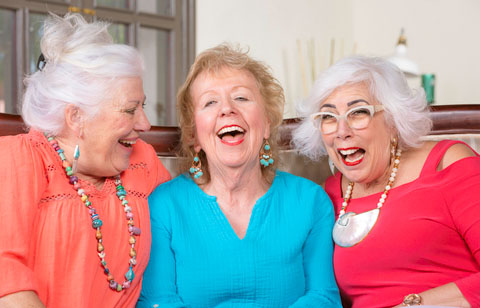 Fortunately for people that are in the situation of aging but aren't ready to give up their independence, there are numerous senior living options to consider. Independent Living communities offer Residents an active lifestyle while allowing them to maintain their independence and autonomy. While each of the communities differ with regard to the various amenities that are offered, it's important to go and visit their locations so that you get a feel for the differences.
What To Look For When Touring Independent Communities
While it's fairly easy to recognize the various sizes and locations of the different independent communities when visiting them, comparing other types of options and services available to the residents of each community might be more difficult to ascertain unless you have the guidance and experience of a senior living advisor assisting you. Some questions that need to be addressed are:
Is there a buy-in fee with this community?
Are all utilities included in the monthly rent?
Does this location have both private and companion apartments?
How many meals are available with my monthly fees?
How often are housekeeping and laundry services offered?
Does the community have transportation available to take me to my regular doctor's appointments?
What type of social activities do you have and do I have to participate if I choose not to?
With the standard of living in independent communities typically set up for those age 60 and older, these are a few questions that should be asked to get the complete picture of each specific community. While independent communities typically promote healthy lifestyles with healthy meals, exercise programs and an abundance of available social activities, it should be understood that there is limited medical and nursing services available. Some communities may have nursing assistance and therapy sessions available during the day, but some may not. Most independent communities offer the availability of outside services such as home care, home health, doctors and hospice to be brought into the community when the need arises as you would into your personal home.
These communities gear their staffing and wellness programs towards the safety and psychological well-being of their residents by offering a wide array of engaging offerings that both fulfill their social needs as well as their active lifestyles.
What Will Signal The Need For An Independent Living Community?
Because of the possible anxiety and stress that a change in living circumstances can cause on an aging adult, it's very important to get the correct level of care correct when you have a loved-one that's considering a transition to a different place to call home. You only want to move once if you can, so having the assistance of an All About Seniors' Advisor is vitally important. Listed below are a few items to consider when looking into a move to an independent living community:
Does the senior have a feeling of isolation or loneliness? Do they have limited visits from family or friends to their current home and would they benefit from a more active lifestyle that the independent living setting would provide?
Is it safe for the senior to continue living it their current environment? If he or she were to fall, how much time would pass before someone would notice that help is needed?
Are their obstacles such as steps, ramps or bathtub challenges in their current home that may be alleviated with a move to a more professionally designed, senior-housing building?
Should the senior continue to drive? While many residents of independent communities continue to drive around town to the bank and grocery stores, there is typically transportation provided by the community as needed for the seniors that find driving a challenge at this time of their lives.
Is it becoming a burden to keep up the house and outside property? What was once a rewarding task and an area of pride of keeping your property in order has now become a challenge that is difficult to maintain. While it can be sad to transition from the home where your family was raised and you've lived for many years, moving to a secure community where others are facing similar challenges can be very appealing. Additionally – as detailed on our Senior Real Estate Specialist's tab, we can save you money on the sale of your home that can be used to pay for independent living services. Just ask us how.
Costs To Be Considered When Looking Into Independent Living
Because most seniors living in independent living communities are still able to maintain their independence and take care of their activities of daily living, Medicare, Medicaid and private insurance plans don't typically cover any expenses related to independent living.
Some seniors may qualify for government subsidized housing or senior apartments. While there is a limited number of senior housing communities that are based on a person's income level and most have a long wait list, All About Seniors has limited capabilities or information when it comes to these living accommodations. Even though we can't tour these communities, we are happy to provide lists of these facilities with contact information that may help your search.
There are numerous independent living communities in the Triangle area that accept private-pay funds as payment. Advisors with All About Seniors will be happy to tour these communities with you and discuss the plusses and minuses regarding each with you. While the location, size of apartment and amenities provided at the specific communities dictate the costs of living in each, the average costs for independent living communities in our area range from $1800-$4500 per month. Depending on what updates or renovations need to be made after the previous tenant moves out, some communities may charge a "community fee" that will help cover the cost related to carpet replacement and/or painting should these areas need attention. Additionally, there is typically a separately-billed "second-person" fee when spouses both move into the same community.
All About Seniors Is Here To Help
We are here to help you navigate the viable options of independent living in your area at no cost to you! Because we have contracts arranged with the service providers, the money we earn is paid directly by them. Call us and let's get started!
All About Seniors is your local and trusted source for assistance in selecting the most appropriate independent living community for you or your loved-one. Please contact us today!