"All About Seniors is here to help our clients find the quality care that they need and deserve whether that care be at home or in a senior living community. Fortunately for our aging population, there are lots of home care and home health companies that offer services that range from companion care and supervision to more of a medical concentration of blood pressure and heart monitoring checks to therapy sessions in your personal home."
What services are typically offered by home care and home health companies and how are they paid for?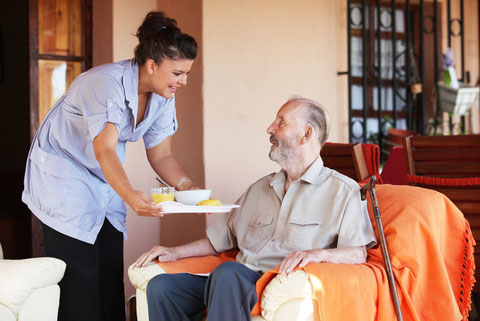 Home Care:
Non-medical in-home care such as assistance with bathing and dressing, meal prep and feeding, light housework, companionship, etc.
Transportation and escorts to medical appointments or grocery shopping trips
Bedtime "tuck-in" services as well as "start your day" offerings to get the seniors' day started properly. Overnight stays available as well to assist the aging with trips to the bathroom at night.
Home care is typically private-pay only and ranges from $20-24 per hour with three to four hour minimal stays. Prices decrease with longer per day visits such as 24 hour patients.
Home Health:
High-level medical care is available through local home health companies and typically includes more complex nursing care which may require visits from licensed nurses
Skilled nurses provide care and education to help seniors recover from recent injuries, surgeries or illnesses to help reduce the risk of unplanned hospital visits
Medication management and support with programs such as fall prevention services to help prevent falls and promote safety
Specific care options to include services such as vision, orthopedic care, palliative care, pulmonary care, skilled nursing, stroke recovery, social services and various therapy options
Home health services for seniors is typically paid through insurance coverage such as Medicaid or Medicare as long as requirements are met and with some limits depending on the specific services provided.
All About Seniors Is Here To Help!
Whether you're contemplating getting care assistance to come to your personal home or the care needed is becoming too much to handle at home, we're here to help you! Don't try and handle it on your own. Call us and one of our Advisors will be glad to help.