"All About Seniors has invested great amounts of time, effort and research to fully vet and select the highest rated and highest quality residential homes also known as family care homes throughout North Carolina and can provide guidance with confidence on this residential option for your loved one."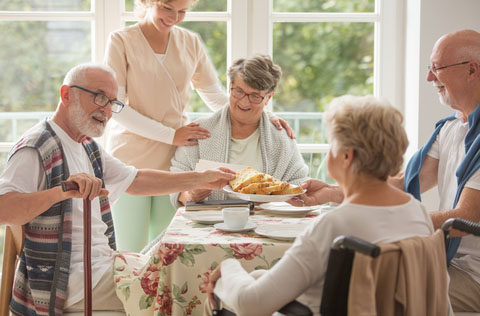 Family Care Homes are well-established homes for aging and disabled adults that are usually located in well-maintained residential neighborhoods throughout the state. Family Care Homes, like Adult Care Homes and Assisted Living Communities are licensed and monitored on a regular basis by the North Carolina Department of Health and Human Services Adult Regulation as well as the designated county Department of Senior and Adult Services for compliance and quality of care. Some homes also participate in state-approved quality assurance programs that can provide a higher level of internal compliance for homes is also maintained by some family care homes in the state. This program provides a way for home operators to show that they're making every effort to provide their residents with the best quality of care possible.
North Carolina Family Care Homes typically are licensed for ambulatory independent or non-ambulatory residents whom require physical or verbal assistance in their activities of daily living or require physical or verbal assistance in evacuating the family care home in the event of a fire or emergency. Family Care Homes that admit non-ambulatory residents whom require physical or verbal assistance in their activities of daily living or require physical or verbal assistance in evacuating the family care home in the event of a fire or emergency are required to have state-approved indoor sprinkler systems installed for fire safety. Typically, these homes are licensed to provide around the clock supervision and monitoring for two and six residents which is the maximum number of residents allowed in a family care home in North Carolina.
Families are often attracted to family care homes for their loved ones because of their smaller size compared to traditional assisted living communities. Due to their reduced size, residents are able to take advantage of a small caregiver to resident ratio while living in a more comfortable and home-like atmosphere. Family Care Homes are very beneficial to residents with mild to moderate dementia as well as for residents that need more attentive and close care.
What services are typically offered in Family Care Homes?
Services that are typically offered in Family Care Homes are as follows, but not limited to:
24/7 supervision and monitoring by trained and attentive staff
Low staff to resident ratio
Medication Administration and Management by North Carolina Certified Medication Aides
Medication coordination with a licensed long-term care pharmacy which include regular pharmacy audits
Total assistance with all activities for daily living
Freshly-prepared meals and snacks made on-site
Regular exercise, social activities and outings
Housekeeping and laundry services
Transportation services
* Contracted RN and Doctor services onsite in selected locations
What are the costs associated with living in a Family Care Home?
Costs associated with family care homes are comparable to higher-end assisted living communities in the area due to the ratio of caregivers on staff as well as the security, safety and peace of mind that these homes provide. Monthly prices typically range from $4000-8000 per month depending on the location of the home as well as the care needs of the resident. Most homes accept private-pay funds only. For residents that qualify for Long Term Care Insurance and Veteran Aide and Attendance Programs, they may be approved for care reimbursement that they receive in a family care home. Even though most family care homes are contracted directly with the resident or resident family for direct payment for monthly services and accept no reimbursements for care directly, reimbursement can be made to the families for the care if approved.
Other costs associated with family care homes are as follows:
Community fees are sometimes charged when updates need to be made due to wear and tear damages from previous residents such as carpet replacement and painting in specific areas. Additionally, a one-time assistance charge may be appropriate due to the recently-enforced family care home requirement of the installation of commercial sprinkler systems. This requirement was put in place by the state of North Carolina to allow family care homes to admit residents that are non-ambulatory or become non-ambulatory during their time living in the home. This allows the resident to often remain in the family care home through end of life with in-house hospice services without having to move during such a trying time.
Deposits are sometimes required to reserve a specific room for your loved-one if the home typically remains at full capacity or if you would prefer to wait for a specific room to become available prior to fully committing. These deposits are usually returned in full should you decide not to move into this home and credited to your account should you move in.
All About Seniors Is Here To Help…
Family Care Homes offer a wonderful alternative for families looking for a smaller setting for their loved-one. Our Advisors are here to help you navigate the options in your area and help you make the right choices. We're local and have relationships with the management teams of the family care homes that we recommend. Give us a call and let's go out and visit a few of these homes today! The owners of these homes are some of the most caring and compassionate people that you'll ever meet and would love to show you their awesome homes.