"All About Seniors is Happy to Help You Locate the Care That Best Fits Your Needs"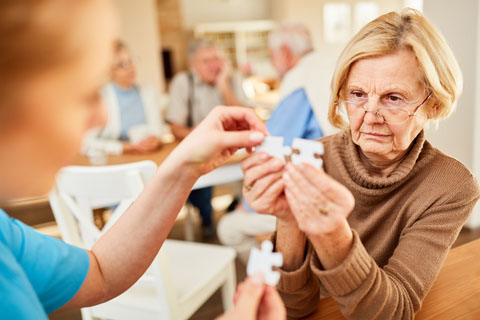 Seniors who are battling various forms of dementia, including Alzheimer's disease require specialized programs and care to continue to live their best lives as they age. Memory care communities are a distinct form of long-term care designed and focused to meet the specific needs and safety requirements of persons with dementia or other types of memory issues. Many assisted living communities and skilled nursing facilities offer a designated floor or wing specializing in memory care. Additionally, there are stand-alone memory care communities available. Memory care communities empower seniors with memory impairment to stay as active and engaged as they possibly can, while living in a dignified, comfortable and secure environment.
What services are typically offered in Memory Care?
Services that are typically offered in memory care settings are as follows:
A higher level of oversight and supervision to prevent wandering and to assure that all needs of the resident are met, 24 hours/7 days week
Specially trained staff with knowledge in memory, cognitive, and behavioral issues
Lower staff to resident caregiver ratio
24 hour availability of nurses and caregivers
Dispensing of medication
Assistance with daily living routines including incontinence
Freshly-prepared meals and snacks often served in smaller dining room settings
Physical exercise and therapy programs
Social activities and mental stimulation
Housekeeping and laundry services
Emergency call systems
Medical monitoring
Pleasing environment that is easy for residents to navigate
Secured area or building that's closely attended to by staff to ensure seniors cannot wander
Secured outdoor space
What might signal the need for the consideration of Memory Care?
Every family's situation is different and everyone starts their consideration for assistance at a different stage of memory impairment. There are several medical issues such as urinary tract infections, dehydration and thyroid issues that are reversible but can lead to signs of dementia. Therefore, a visit to your physician for a formal diagnosis can be the first step. True dementia is an irreversible, progressive disease. Also, the physician may also be able to provide a diagnosis of the type of dementia and the stage of the disease which provides very helpful information in making care decisions. The stage of the disease will help determine what level of care is most suitable to the senior's needs. For some seniors, living in an assisted living community, participating in adult day care activities or either obtaining in-home assistance may meet their daily needs. Other options may be a family care home or hospice may be contracted to augment the care provided by the staff of the home. Working in conjunction with the physician's diagnosis, All About Senior's advisors can help determine the level of care and provide options for your consideration.
Some signs that memory care should be explored include:
Inability to care for oneself
Increase in incontinence
Increase in wandering/exit-seeking behavior
Heightened aggression toward others or self-destructive behavior
No longer safe to be alone
Requires 24 hour supervision
We understand that making the decision to move a Senior from their beloved home is a very difficult one and our advisors will work diligently to present options for your consideration. A good community will develop a personalized plan that meets the needs of your loved-one while encouraging them to do what they can for themselves and giving them freedom while still keeping them safe.
What cost is expected when considering Memory Care?
Costs of Memory Care communities are a little more per month than assisted living as there is normally a greater number of care providers that are specifically trained to assist those suffering from dementia. Most communities accept private-pay and long-term insurance funding while a small percentage accept Medicaid. The limited number of Medicaid availabilities is typically offered first to senior residents that have been paying privately while living in the community for a required amount of time. In-home services can also be a consideration depending of the care that is necessary. Other costs associated with memory care communities are as follows:
Community fees are sometimes charged when available apartments need updates due to wear and tear from previous residents such as carpet replacement, painting, damage repairs, etc.
Deposits are sometimes required to reserve a specific apartment for your loved-one if the community typically remains at full capacity or if you'd prefer to wait for a specific apartment to become available prior to fully committing. These deposits are usually returned in full should you decide not to move into this community and credited to your account should you move in.
Base rent plus care charges – The majority of communities charge standard, monthly rental fees and separate health care charges based on the care needs of each specific resident. These type of charges can be shown as "a la carte" for each service provided or either in an "all-inclusive" manner where all care needed is provided for one set fee. There are also "levels of care" that senior living communities have put in place to group care charges together for specific services rendered.
All About Seniors Is Here To Help
Choices regarding the various types of memory care can be very confusing, but yet vitally important for the senior and their family to understand. Our Advisors are here to help you navigate the options in your area and help you make the right choices of care. We are local and have relationships with the management of the communities and family care homes that we recommend and we stay up to date on which ones are having staffing challenges. Senior living options are not one size fits all and their differences should be recognized and discussed so that we can find the right fit for you and your loved-one. Give us a call today to get started!