"All About Seniors Is Happy To Help You Locate The Assisted Living Location That Best Fits Your Needs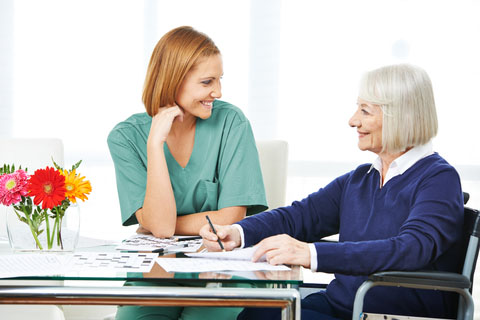 When the time comes when a senior needs help with activities of daily living like dressing, eating, toileting, bathing and/or transfers, assisted living communities may be the supportive environment that will work for them. Lots of seniors are still highly functional and independent in many ways, but need help taking care of various personal needs. Assisted living communities are good options when an aging person might not necessarily need 24-hour medical care and supervision of a skilled care facility, but need more personal assistance than your typical independent living community offers.
What services are typically offered in Assisted Living communities?
Services that are typically offered in assisted living settings are as follows:
Help with taking care of activities of daily living such as bathing, dressing, grooming, eating, toileting and transferring
Freshly-prepared meals prepared by a dining team and served restaurant-style in a large dining room or smaller, more intimate dining areas
Housekeeping services including laundry services
Social and recreational activities to promote the wellness of residents
Medication management
On-site or the availability of healthcare professionals such as RN's, CNA's and doctors to provide physical, occupational and speech therapy care needs
Secured residences monitored around the clock with emergency call systems located in each residence
Transportation options to take residents to doctor appointments and grocery shopping, etc.
What might signal the need for the consideration of Assisted Living?
While each senior and situation is different, the need for additional care or a transition to assisted living may be signaled by changes in your loved-one such as:
Increased isolation or depression,
The decline of personal hygiene such as a lack of bathing, grooming or general wellness that is different than what has been the senior's normal behavior,
Possible weight loss and/or eating difficulties,
Mobility and/or balance issues which increases the risk of falls,
Missed medications and/or forgetfulness,
Difficulty in maintaining the home with excess food spoilage,
Bills not getting paid promptly or mail remaining unopened, and
Transportation limits due to not being able to drive any longer.
While triggers such as these may either be obvious or difficult to ascertain, making the final decision to transition your loved-one to an assisted living community will be filled with emotions. For children of parents that are having to navigate the process and try to make the best decision for their parents, it can seem overwhelming and may produce a feeling of guilt. For the seniors that are considering this lifestyle change, they sometimes wonder if they're making the right move or possibly making the move too early? Will my friends and family members come visit me at my new home? All of these questions and feelings are normal and should be expected. With the help of an All About Seniors advisor, we will help you ask the necessary questions to determine the correct current level of care as well as project future needs. Our free guidance is an invaluable resource for you and your family that we're honored to provide at such a time of need.
What type of costs should be expected when considering an Assisted Living community for our loved-one?
Costs of assisted living communities should be clearly understood prior to moving into a specific community because most communities accept private-pay and long-term insurance funding while a small percentage accept Medicaid. The limited number of Medicaid availabilities are typically offered first to senior residents that have been paying privately while living in the community for a required amount of time. Other costs associated with assisted living are as follows:
Community fees are sometimes charged when available apartments need updates due to wear and tear from previous residents such as carpet replacement, painting, damage repairs, etc.
Deposits are sometimes required to reserve a specific apartment for your loved-one if the community typically remains at full capacity or if you'd prefer to wait for a specific apartment to become available prior to committing to moving in. These deposits are usually returned in full should you decide not to move into this community and credited to your account should you move in.
Base rent plus care charges – The majority of assisted living communities charge standard, monthly rental fees and separate health care charges based on the care needs of each specific resident. These type of charges can be shown as "a la carte" for each service provided or either in an "all-inclusive" manner where all care needed is provided for one set fee. There are also "levels of care" that senior living communities have put in place to group care charges together for specific services rendered.
All About Seniors Is Here To Help
Our Advisors are here to help you navigate the assisted living options in your area and help you make the right choices of care. We are local and have relationships with the management of the communities and family care homes that we recommend and we stay up to date on which ones are having staffing challenges. Senior living options are not one size fits all and their differences should be recognized and discussed so that we can find the right fit for you and your loved-one. Give us a call today to get started!